Wow Easter weekend, Spring is here, the day was beautiful!!
Joining Mamarazzi for the Happy List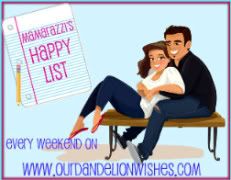 I am Happy that I just went for a 2 mile walk, the sun was setting, beautifully by the time I returned, should have had my camera with me.
I am Happy that my 2 boys rode their bikes, and our dog came along with me on my walk.
I am Happy that I officially now a Stay at Home mom again, I worked my last day of work this last week. I will now be able to be home for my kids, and to help my husband.
I am Happy that now that I am not working, supper will not be late because nobody thinks to start it before mom gets home.
I am Happy that the weather is beautiful, the snow is almost all gone, and the mud is drying up around our house.
I am Happy that ALL of my family will be here today for Easter, it has been a few years since we have ALL got together at this time of year!
I am Happy that there will also be wine in attendance this weekend!
I am Happy that I am making some wonderful bloggy friends, I enjoy visitng their blogs, and having them visit mine!